To get started there are a few things that you should know. So I will point them out here.
Personalization and Profile
To show your personal side, go into
My Profile
(Note I mean yours, not mine) and customize it with some information. Such things like your current System Specs to share with the rest of us the type of machine you are running. This information can be quite useful in regards to technical support, so the more you can fill out the better. If you have any questions about what some of that information means, just ask.
How to start a New Thread
There is many forums on the site and each of them serve a specific purpose. Within each one in the upper left hand corner you will see the New Thread button. It looks like this:
To show you the exact location i will provide a screen shot.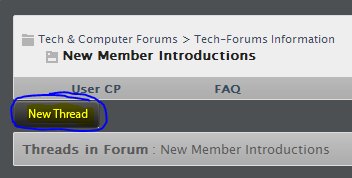 This will allow you to create a New Thread in the appropriate area of the forum to get support for your issues. In the Screen shot you will notice 3 Announcements. These are very important and should be Read
BEFORE
making your first post. They contain the Rules of the site, The stance we have on Torrent information and how you can give back with a idle PC using Folding @ Home.
With this it is noted that you
create 1 topic
for your question in the specific area that covers that topic. Creating the topic multiple times in multiple areas is only confusion for yourself and our members. You will see repeated suggestions in the various topics while members will not know that the suggestion they are about to offer has already been stated. As such the first offense will not be held against you but subsequent offenses shall.
With it is also noted that there is no need to change the font
size
. Size 2 font is more than sufficient for reading on the site. It is the default font size and using a larger font to try and gain more attention will only get yourself into trouble and get your post edited back to the forum default. There is such a thing as forum etiquette, this means proper behavior on site. No using all caps, no using increase font sizes to draw attention, no rash behavior. If you wouldn't do it in public, do not do it on our site. Just because it is online doesn't give anyone the right to act that way.
There is also a
FAQ
for General Forum use. It is located
here
. I will copy and paste some of the more important information here.
Searching Forums and Threads
How do I search for something?
To quickly find a thread or post of interest anywhere on the bulletin board, click on the 'Search' link in the navigation bar at the top of most forum pages. Then, type in the keyword or phrase you wish to search for, and select either 'Show Threads' or 'Show Posts' to view the results. By selecting posts, you will be shown only the actual post in which the search word appears.
For more control over the search, select 'Advanced Search' from the drop-down box. The advanced search page allows you to restrict your search to individual forums, find posts or threads by user, or return results based on tags (?). There are also options to find posts from a certain date, or threads with a certain number of replies.
How do I search a specific forum or thread?
If you are browsing a forum, you can quickly search for a thread or post within it by clicking on the 'Search this forum' link near the top of the page (it's above the list of threads). You can also search for individual posts within a thread by clicking on the 'Search this Thread' link at the top of any thread view page.
Dealing with Troublesome Users
What if I see something offensive?
You will find 'Report' links
in many places throughout the board. These links allow you to alert the board staff to anything which you find to be offensive, objectionable or illegal.
Editing and Deleting your Posts
Can I edit or delete my posts?
If you have registered and are logged in, you may be able to
edit
your posts (although the administrator may have turned off this option). Your ability to edit your posts may be time-limited, depending on how the administrator has set up the forum. The norm here is 24 hours.
To edit or delete your posts, click the
button by the particular post. If your post was the first in the thread, then deleting it may remove the entire thread.
The Edit Button is active for 24 hours.
Use this before posting again if it is available. See
Rule #4
. For reference of placement of the Edit Button here is a screen shot.
Once you've made your modifications, a note may appear to inform other users that you have edited your post.
If the edit time and date appear as a link you can click on this to see the differences between the original and edited versions, or between edits if there have been multiple edits.
Can others edit my posts?
Administrators and moderators may also edit your messages. If they do, there may not be a note telling other users that the post was modified.
How do I quote or quote multiple replies in my post?
This can be achieved one of 2 ways. The first way is wquite simple if you only have to quote a single reply. There is an optoin at the bottom of each post that says "
Reply With Quote
" in which you just click that button to have that post get quoted when you make your reply. Now if you wish to reply to multiple responses the task is accomplished almost the same way. In the screenshot below I have high lighted the multiple quote button:

The button roughly circled in blue is how to Quote a single post. The button roughly circled in red is how you Quote Multiple Posts. This button must be clicked for all posts you wish to Quote in your reply.
Just click this button under each post you wish to respond to then at the bottom click the "Reply to Thread" button as pictured here:
This will bring up all the replies in the text area for you to respond to at once. This will cut back on the amount of double and triple posts since you can reply at once to all.
Attachments and Images
How do I attach a file to a post?
To attach a file to your post, you need to be using the main posting option. To get this option select the Go Advanced button below:
There below the text input box you will see the Additional Options:
Here you first click the Manage Attachments button as shown. There this screen will pop up in a new tab: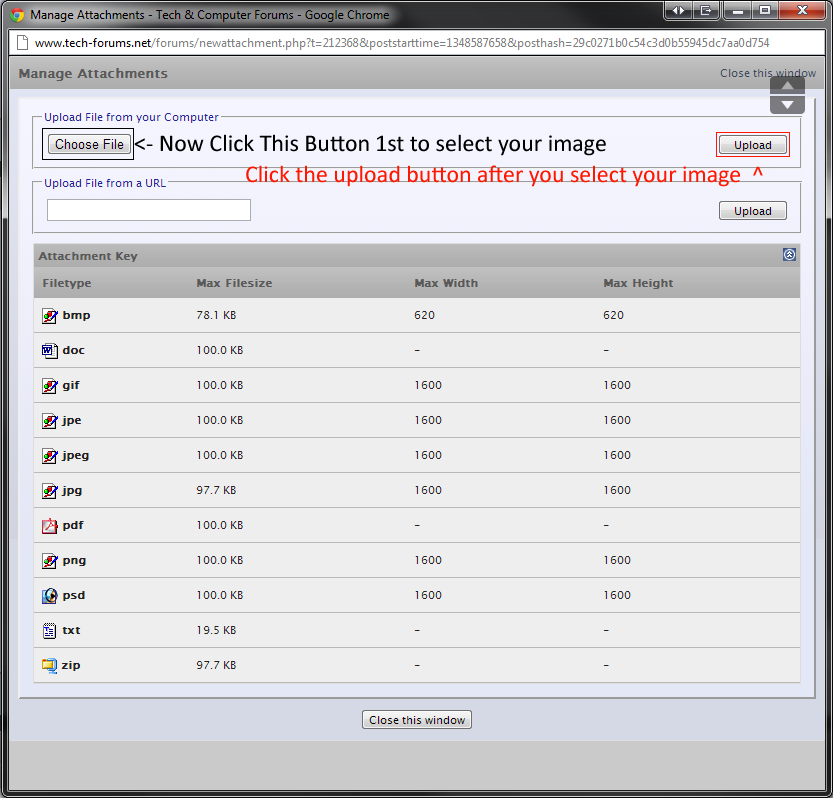 Here you click the Add Files button to select the file you wish to add. Then you click the upload button
after
you select the file you wish to share. Then you click the
Close Window
button at the bottom.

This will attach your item to your post. You will go back to the Advanced Posting Screen. You will see the item attached to the post. You have 2 locations to click Submit Reply after you have filled in the text box with your reply that you want to go along with the image.
What files types can I use? How large can attachments be?
In the attachment window you will find a list of the allowed file types and their maximum sizes. Files that are larger than these sizes will be rejected. There may also be an overall quota limit to the number of attachments you can post to the board.
How do I add an attached image to a post?
If you have uploaded an image as an attachment, it will automatically be added to your post as an attachment. To see it click the Preview Post button instead of Submit Reply Button.
To include an image that is not uploaded as an attachment and is located on another website, you can do so by copying the full URL to the image, (not the page on which the image is located), and either pressing the 'Insert Image' icon or by typing [img] before the URL and [/img] after it, ensuring that you do not have any spaces before or after the URL of the image. You can insert pictures from your albums in this way too.
This is some general information to get you started. If you wish to know more and it is not provided in the FAQ feel free to ask these types of questions in our
Site Feedback & Suggestion
area. Someone will be along to assist you with your query.
Please take the time to read a few things
First would be our
Rules
. This will help you get familiar with how the site is run, and our stance on many things. Including
Torrent Discussions
and
Emulator discussions
.
After that take some time to familiarize yourself with our site to see how we have things laid out. We have just about every thing covered when it comes to a specific topic. You may not know where your topic or specific question may need to be placed at first. Which is no big deal. If needed we will move it to the proper place and make a note of it for you. We just ask that you try to place it in the proper area.
Note that being new if you include hyperlinks in your post, it may not be visible at first. This is due to an Anti-Spam module we have running. With this module in place, any posts by new members is put under moderation. It helps us keep the site clean and free from junk that doesn't need to be seen. So if you make a topic that contains hyperlinks and after you hit Submit New Thread, you don't see it please don't panic. It will be caught by a Moderator or Administrator ASAP for approval and then be able to be seen by not only you, but other members as well. Please if this happens, don't post the topic several times till you can see it. It is just more confusing for everyone.
Now along with all of this there are a few more things to make note of. First would be that new members do not have access to several features up front.
Off-Topic Forum
is not available till you reach 40 posts. Please be advised to read the
rules
of that area before you gain access. Not only do the regular forum rules apply but addition rules apply for that area.
The Buy/Trade/Sell area
is not available till you reach 100 posts. This is both for your protection as well as that of our members. Being new to the site we know nothing about you and you know nothing about our other members. Signing up and trying to sell something right away will not get you anywhere and fast. People will not be willing to buy from someone who just joined. Please be advised to read the
rules
of that area as well.
We have a special area as well called
Confidential Discussions
. This is an area that only the topic creator (you) and our Staff will be able to see the threads created. This is to ensure that if you have some questions that you do not want seen by the public can be answered by our knowledgeable staff. Everything in this area is just that, confidential. Nothing is said outside of it about what it contains.
Staff Member List with Forums of Moderation
Another link of interest is the one for the list of Moderators and the forums they Moderate. This is a useful this for members so that they can check the list of Moderators and contact a Moderator of that area directly if an issue arises. The way it should work, if you have an issue with a member contact first a member of the staff for that area. It is listed in the link above. They are the first person you should contact. They will do what they can to assist you. If you are not satisfied with the response, you may then contact any SMod or Super Moderator. They are the next in line in the Staffing. They have Moderator abilities in all forums of the site. They will have contact not only with you but with the original Moderator you had contact with to see what was talked about and how they can assist you. If you are still not satisfied then you should contact a Forum Manager. These are the staff members above the SMod's but right below the Administrators. They are what we consider Administrator's in Training. If all else fails then contact the Junior Administrator (Mak213) first. If the Junior Administrator can't assist you with the issue, he will then direct you to the Senior Administrator (Trotter).
So the list goes:
Moderator of the forum
Super Moderator
Management
Junior Administrator
Senior Administrator
By no means should the owner be contacted. If there is a pressing need to contact the Owner then the Junior or Senior Administrator will do it. We operate closely to most businesses. We have a chain of command. While any one of the staff members can, and at times, will make decisions without first notifying or discussing it with other members of the staff. It will always be known by all the issue and the resolution for the issue. We discuss things all the time and it is very rare that the whole staff doesn't know of any given issue or its resolution. If you want the matter kept in complete confidence, you should contact the Junior Administrator directly.
Now this should not be used to take care of rule violations such as illegal discussions or anything of that matter. This is for issues which can't be resolved with a simple report of the objectionable content.
Now after all of that there is 1 last thing i wish to share as well. Each forum has what we call Stickies or Sticky Threads. These threads are created for your convenience. These threads contain information about commonly asked questions. Some are called Indexes. These contain a bunch of topics that are known to be commonly asked about. It is advised to just check each of the sticky threads and indexes for topics that may contain information that you maybe looking for. This could easily result in you getting your answer long before you even have to create a thread to ask.
Last but not least, enjoy your stay with us. If you have any questions, by all means ask. The Rules contain the email address of 2 Administrators of the site. We also in our profile have it setup so that you can email us directly from there.
Regards,
Tech & Computer Forums Staff