some1 told me that the capaciters on the board are usually first to go...
one is a little rounded at the top but the others look fine...
my black ones look ok. the 2 green ones look good but the one yellow looks a little iffy...
those are the ones with the wires wrapped around them. the yellow capaciters wires are buldged and the wire is a bit farther away from the capaciter.
all of the cylinder cap. have flat heads and look ok.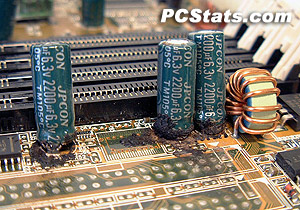 k, the ones on the left on the picture are bad, mine look good.

the one on the far right looks like mine in the picture, but the wires wrapped around are a little swollen, so how much bulging of the wires is tooooo much?

__________________