Hello, I have a few computer problem symptoms that worries me to death. If you're familiar with this problem, please help me.
The first time it happened, when I listen to music from iTunes the sound came out in slow motion and it's struggling to play the rest of the song. I exited the program thinking it's a minor issue and opened it again, and then it works fine.
The second time around, it happened again - but not just iTunes. I was playing a flash game in my computer and the sound also didn't come out right.
This happened to me a long time ago, a few years back. It was in much worse condition. Songs playing in slow motion, and I couldn't even play videos at the time. I ended up sending out my laptop for service for over two weeks.
Earlier, I tried rebooting the laptop, and this disk checking screen pops up: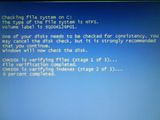 It froze on that screen. It won't go past 0 percent in the second stage no matter how long I waited. I had to force-reboot it and skip the disk checking process for now so I could go back to the internet and post this.

I really have no idea what's going on but worst case scenario, it could be something overheated and burned inside. Or maybe other performance failure issues. Or it could be some small problem... I'm clueless about it. At the moment, I feel I shouldn't use this laptop for music or videos.

Are you familiar with this what could be a major hardware issue?

Thanks.

__________________