got the evga 590 sli to boot with the four pin connector on my mobo just fine.
laid it out on my desk, popped in the RAM, vid card, cpu and zalman and let er rip.
highest fsb(htt) i was able to reach was 296. (296 x 9).
highest clock i got was 2.904GHZ (264 x 11).
didnt test for stability. i did run super pi, though...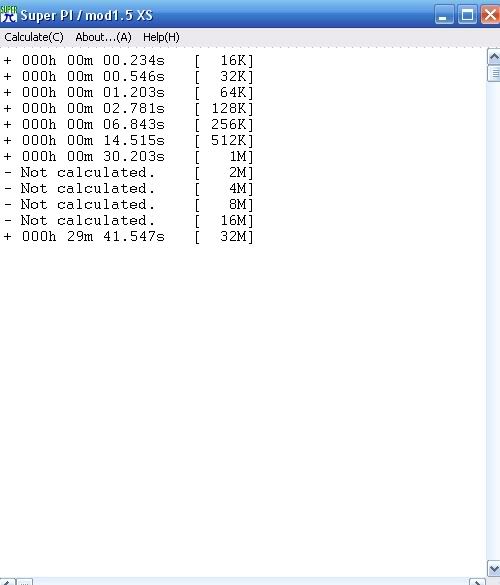 sooooooo.
thats it. two-tenths of a second away from my goal of sub-30 superpi 1m. i did all the tweaks i could think of....all the tweaks i know after all the time i have spent messin with my current rig, ram timings, voltages, etc.
i know i can probably reach it if i stuck with it and tweaked and tweaked and tweaked. to tell you the truth i am so disappointed in the low fsb i was able to reach...264! my friggin 70 dollar abit nf4 will almost do that (it tops out around 260 with a 11 multi...it will do 299 with a 9 multi). anyways, i am so disappointed in the overclocking ability of this board that i think i am just going to RMA it to newegg. maybe i'll get another mobo...maybe i'll just sit on the money. maybe i will invest it all in beer. seriously...the results do not justify the expense to me. maybe i have a weak chip...i dunno. i have seen documentation of my very same stepping hitting 3.2 on the foxconn 590 (supposedly the same as evga's).
i dont know if it is my cpu holding me back now or what..? it seems that 2.9ish is IT, no matter the mobo or clock/multi/RAM settings.
ah, crap....i think i am gonna cry. lol. nah, but i am pretty friggin irritated.