been long time since I posted here or even kept up with pc tech, but im looking to build a new machine here soon as my current rig is showing signs of fatigue.
what I have in mind so far is as follows (still need help deciding on what type of HD I want.
Case:
Thermaltake Chaser
$160
(could not really decide on case, antec makes a neat cube case I liked also)
PSU:
OCZ ZX Series 850w Full Modular
$170 (I really like OCZ psu's, never had a problem with them)
CPU:
Intel Core i7-3820 Quad Core LGA 2011 X79 chipset
$300
CPU Cooler:
Intel Liquid-cooled Thermal Solution
$78
Motherboard:
ASUS P9X79
$300
or
ASUS P9X79 LE
$240
or
Gigabyte GA-X79-UP4
$260
GPU:
EVGA GTX 680 w/Backplate 4GB
$520 (a bit pricey, are newer cards coming out soon? to lower these prices?)
RAM:
G.SKILL Ripjaws X Series 32GB Kit Quad Chan
I need help making a choice on HD setup, is one regular 7200 RPM HD going to be ok for what I want to do (online gaming + video editing), or should I go with a 2 HD configuration (one slower, and one SSD drive),
or can I get away with just 1 larger sized SSD to simplify things?
such as:
Newegg.com - OCZ Vertex 4 VTX4-25SAT3-512G.M 2.5" 512GB SATA III MLC Internal Solid State Drive (SSD)
if you could please give me pros and cons on specific parts, and if dont like them, please list reasons why.
Thanks.
edit: forgot to add my current rig's info in case that helps out why im looking to rebuild:
CPU: Intel Core i7-920 LGA 1366 L3 Cache 8MB(love the cpu, but motherboard needs replaced and this thing does not fit in newer boards)
CPU Cooler: Vigor Monsoon III (one of the fans died out, no biggie, it was an easy replace, cooler works great, do they make brackets for it to be used on LGA 2011? if so i may keep it and use it for new build)
MB: EVGA X58 141-BL-E757 LGA 1366 (this was my ASUS replacement that was DOA, and lately its onboard sound has been shotty, rather part out system than put money into this one)
GPU: ASUS 6850 1GB GDDR5 256-bit(no complaints about card, but it may not be up to the task when editing video)
RAM: OCZ Triple Channel 6GB DDR3 1600 PC3-8500F Latency's 7/7/7/18 (no problems with ram, but im sure its hurting my editing speeds due to amount of ram)
PSU: OCZ 750w Fatality Edition, non modular (great psu, no issues, just want a modular one now)
Case: Modded Antec 300 (yes its small) as you can see this case is a little tight on the inside: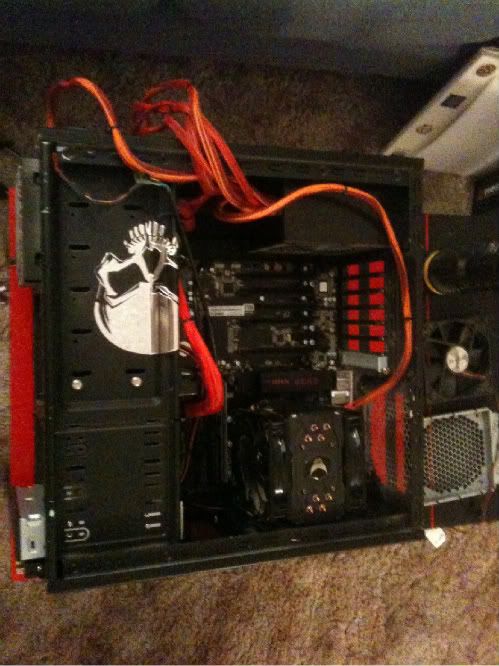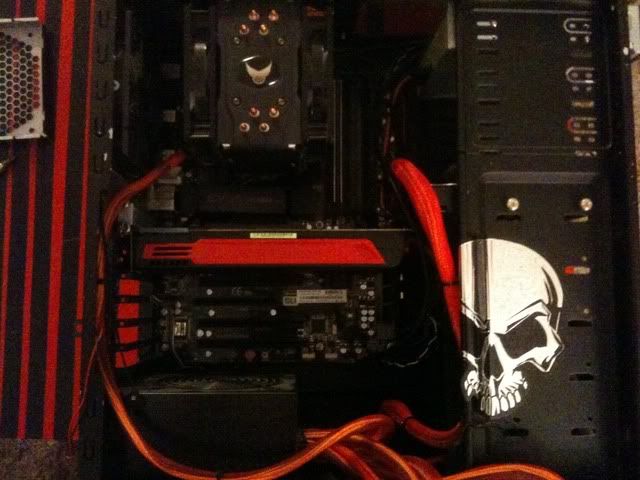 __________________