Hey there.
I've got what may seem like a bit of a silly couple questions, not sure. I recently bought an
Xclio A380 Color
.
Right now all I've got is the case and the motherboard, waiting for the other parts to come in. I'm not new to building computers, but I'm far from familiar with all the ins and outs, as more experienced people would be. Anyway, I was looking at the wires and realized this case had a few things I'd never dealt with before - fancy lighting switches and fan controllers on the top/front of the case.
So I have two questions I'm hoping to find answers for so that when the rest of the parts come in I can jump on it.
-First, the wires for the fans - for each fan there's a power cable coming from the fan itself, and a wire presumably for the control knob coming from the top on the inside. These right now are plugged into eachother for each fan. When I get the PSU, do I just plug those in where they'll fit on the PSU? Do they need to go into the same connecter, male/female appropriately for the switches to control the right fan?
-Second - there's this small wire (a red/black one) coming from the top of the case. I have no idea what this cable is for, or where to plug it into. The documentation for this case is close to nonexistent, mentioning nothing about wires, and this one isn't labeled in any manner. What is this cable for, and what do I plug it into? This one as well, is right now plugged into itself.
I've attached some pictures to perhaps better illustrate what are probably these simple, silly questions: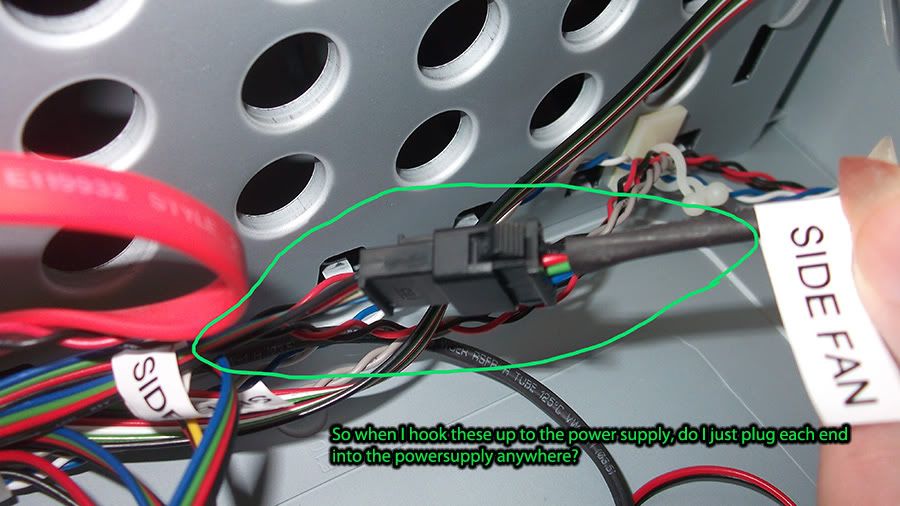 Part of me thinks "Well ******, if you don't have the knowledge to figure that crap out on your own, why buy the case", but another part of me understands, "I just couldn't pass up having a rainbow for a computer".

Thanks for any and all assistance, and let me know if more pictures or anything of that nature would help, hoping to get an answer on this within the next day or so.

Cheers to all.

__________________