Quote:
Originally Posted by
darksideleader
You'd be able to fit a 8800GTS for sure, a lot of people who bought it could fit it. I dunno how much bigger the GTX is. As for CPU, why wouldn't a Q6600 fit on a matx? i was thinking of a 690G board with a A64x2 with a 6000+ anyway.
your talking about the wrong form factor, I am talking about micro-ITX not uatx the main difference is a micro-itx board is just 6"x7" which is basically the size of the back plate of a standard mobo
.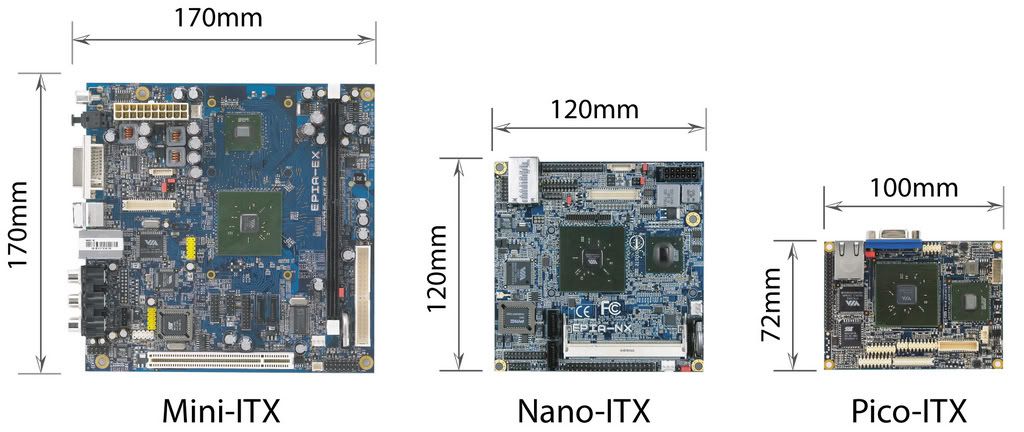 To Sedka this is for you. all you should need:

mobo/cpu: Via made with built in chip I would use this 1.8 ghz version

VIA EPIA SN-Series Mini-ITX Mainboard - VIA Technologies, Inc.

Ram: 2gb ddr2-6400 any good brand

Psu: 120W external (usually the size of laptop charger)

Case: Choose your own I personally like this:

Psile | Silent Media center or living room PC according to Nexus

you stick high grade Case stickers on they actually look really professional with a high quality sticker plus you can just rip the sticker off and start again if bored.

Hdd: 320gb Seagate barracuda 7200.11

gfx: 8500 or something on a unbeatable deal passively cooled I guess would be preferable as it keeps noise down

For research

mini-itx.com - news

is a good start although if you look around you should be able to grind down the price overall and remember that the only "specialist components" are the Mobo/cpu combo, the rest is just standard tech

__________________