Corsair 650D Review.
Corsair has been producing products for quite awhile, ranging from RAM, PSU, SSDs and cases….. Really BIG cases. Theses are the Obsidian line of case measuring some 2' by 2' by nearly a foot wide. While nice ands roomy, EATX Compatible, with fantastic cable management, they were more geared for water cooling setups.
Fast forward to Fall 2010, and Corsair announces their first mid-tower case, the Graphite 600T. Breaking from the industrial looking Obsidian lines, the 600T was rounded and plastic. Still maintaining its great cable management, but introducing more airflow to bring in the air coolers. However, with a 200mm front and top fan, and a 120mm rear fan, cooling was slightly disappointing.
Jump ahead to 2011, and Corsair brings out a new Obsidian case, the 650D. A slightly smaller versions of the infamous Obsidian 700/800D cases, with the same interior and features of the 600T, except with upgraded 200mm fans.
Could this be a case to rule them all….. Lets take a look.
From
Corsairs product page
, they give this description of it:
Quote:
Quality Construction
The Obsidian Series 650D mid-tower case is manufactured with strong, stamped steel parts for increased rigidity, and coated in a black textured paint. The front panel features a beautiful black brushed aluminum faceplate to bring a subtle elegance to your next build.
Excellent Cooling
A large, black 200mm intake fan hides behind the front dust filter, quietly pushing vast amounts of air over your hard drives and video cards. The air is then exhausted by a second 200mm fan on top of the case, and a rear 120mm fan. The top fan can be replaced by dual 120mm or 140mm fans, and is pre-spaced for a dual radiator if you're interested in watercooling. And all fans are controlled by a three-mode, four-channel fan controller should you want to make your own choice between noise and performance.
Award-Winning Features
The 650D is a member of the award-winning Obsidian Series of cases from Corsair. The Obsidian Series is more than just a name — it means real features that can benefit even the most experienced system builder.
• Dual 200mm fans provide outstanding cooling for even the hottest components
• Easily accessible dust filters make maintenance simple and hassle-free
• Quick-release side panels make it easier than ever to upgrade your hardware
• Integrated fan controller lets you quickly adjust cooling performance and noise levels
• Four tool-free optical drive bays and up to six SSD-ready hard drive trays provide plenty of expansion
• CPU backplate cutout makes it easy to upgrade your CPU cooler
• Brilliant cable routing system provides a way to keep your system neat and tidy
• Adjustable drive cages can be removed and relocated to accommodate large video cards
• Room for long power supplies gives you peace of mind for future upgrades
• Available April 2011
Lets take our own look at it.
The official specs are:
Warranty ->Two years
Dimension ->21.5" (L) x 9" (W) x 20.5" (H)
546mm (L) x 229mm (W) x 521mm (H)
MB Support: ->ATX, mATX
Expansion Slots -> 8
Form Factor -> Mid-tower
Material Steel structure with black brushed aluminum faceplate
Drive Bays -> (x4) 5.25" (x6) 3.5"/2.5" Drive Caddies
Cooling -> (x2) 200mm Fans (x1) 120mm Fans
Front I/O -> (x4) USB 2.0 (x1) USB 3.0 (x1) IEEE 1394 (x1) Headphone, (x1) Mic 4-channel Fan Controller
Power Supply -> ATX (not included)
The 650D has kept to the classic Obsidian line, with its stamped metal panels and squared shape. Unlike the 700/800D, the 650D comes with a large window.
It sports a brushed metal black finish, which is quite sexy, though it finger prints and marks quite easily.
You can see how lovely the case really is.
You get a fairly large clear window to see all of your hard earn dollars that you spent on shiny computer parts, and some neat looking door locks, that we'll see below. The front is your typical front panel with the intake grill with easy to remove filter. Corsair was smart enough to put filters on all the intakes… Okay both intakes, the front and bottom psu intake has one as well. Corsair was smart enough to put filters on all the intakes.
The front panel is covered by a simple push to open door, hiding a firewire port, 2x USB 2s and 2x USB 3 ports. Very handy for today's newest devices. Corsair claims only 1 USB 3, but it appears to be 2 by the connectors.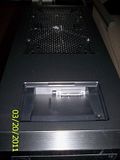 The top panel has the 200mm top exhaust fan, which can be switched out for 2 120mm fans, OR 2 140mm fans. Corsair has been very kind and supplied the mounting screws to easily accomplish this. This also means watercooling your parts is hassle free as any typical 240 or 280 Rad simply bolts in. Going bigger than a 240/260 Rad isn't easily done without a bit of cutting.
Also tucked on the top is a handy hot-swap bay, sized for both 3.5" and 2.5" drives.
But hot-swap drive isn't Corsairs only clever addition. Being an extremely toolless design, Corsair has stepped up their game, and did away with the clunky thumbscrews by using simple to operate latches.
Fairly simple, but works well.
Now to the inside.
This is where Corsair excels. As everyone who builds their own systems knows… It's not just what's in the case, but its also what it looks like in the case. Who wants their mega bucks build looking like a mouse has moved in… Not many, plus the cleaner it is the better cooling you get.
You can see the possibilities of cable management right from the get go. Plenty of routing holes, covered in very nice grommets to bounce back in place making a clean appearance. The case has 6 3.5" dive bays, set in a sideways configuration, again allowing a clean install of your hard drives. The front header cables are plenty long enough, allowing them to reach any header placement motherboard makers can dish out.
As mentioned, the 650D is a bottom mounted, bottom exhausted case, but what really is nice, is the psu supports are full adjustable to accommodate any length of psu, by simply undoing the thumb screws and repositioning the bracket.
Also like every case today, a fairly large cpu cut out is spec'd for easy access to maintain your cooling choice.
One of the really neat things is the hard drive cages. As this is a tool free case, Corsair has developed tool less 3.5" drive cages.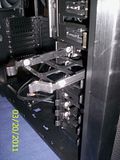 You simply pop in a standard drive into the cage, then slide it into case. They've also added mounting support for SSD drives to each cage. While extremely low tech, just 2 mounting holes added to each cage, it works well.
Along with the ease of use, the hard drive cages are modular. You get 6 drive spots, but they are in 2 separate modules that are able to be removed, as seen below.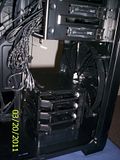 This allows optimum airflow from the front intake. If 6 drives are needed, the cages can be mounted side by side, but it limits the length of psu.
On the cooling aspect of this case, like most cases now adays, you get front intake with a top and rear exhausting. Corsair has elected to run a 200mm x20mm (100cfm) as a front intake and top exhaust, and 120mm rear exhaust.
Now that the standard review is done, time for a more personal review of the case.
It has a very classic industrial look. No lights, no odd shapes just a nice clean look.
Putting a Gigabyte x58a-ud3r mobo, a Noctua nh-u12p cpu cooler, SLI gtx 260-216s and a Huge Silverstone DA700 psu is like cutting butter with a light saber.
This:
plus
EQUALS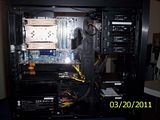 It's really quite nice and actually enjoyable to build with. Even the back side comes out sexy.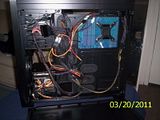 The back panel area has enough room to stuff all the cables back there and have no back buldge what so ever.
As a comparison, the same parts in a Antec 900v1 looks like Robocop drank too much and prayed to the porcelain god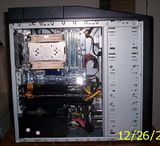 Sadly there are some downers on this case.
There are now 2 versions of this case due to the 3 speed fan controller causing a whine in the 200mm fans… This has been fixed in the new version, aka the -1 models and are what's being sold at stores now.
The front panel has usb 3.0. However to use them, the front panel connecters get pluged into the back of the mobo, so you really don't gain anymore usb ports. Hopefully Corsair will release a fix, like they did for the 7/800D.
They should have made it as a mobo header as most people dropping the coin on this case, will probably have 3.0 headers on the mobo. Kinda hokey, but the case does have appropriate routing routes.
Another unhappiness, and this is a big one, the intake fan is a 200mm x 20mm fan. This is a low pressure high volume fan, ~100cfm. With the size of the case, and the hard drive cages right in front of fan, this cause poor airflow. I unfortunately experienced a 6-10C temp increase switching over from the 900.
With the odd fan size, 20mm wide, it is nearly impossible to find something to replace it.
I've played with dual Noctua NF-P140FLX fans as exhaust, at 110cfm each, with barely a change in temps, which has been quite disappointing.
With the new fan controller already being shipped out, the whine is a none issue. The air cooling or lack of is a big issue, With the very limited options can be a real concern for overclockers. However, if high hot overclocks are not a concern, this case is a sweet sweet case.
A great plus to this case, is the easy upgradability to water cooling, with the factory having already putting in place mounts for a 240 or 280 rad setup on the top exhaust, and even more rad space if you rearrange the hard drive cages.
Final word on this case is a 7.5 out of 10. Corsair has a tendency to be pricey, and this case is going for upwards of $200 on the internet, but can be found for less on special..
If it were cheaper, it'd get a higher mark.