Quote:
Originally posted by bigbmxdave
read the articles on the forums they all tell you what to do.
as a base rule just go up in 5-10 mhz increments until your system shuts down. then try upping the core voltage by small increments again. just keep watching the temps.
and dont get too greedy
the thread maker is talking about a video card dude. you can adjust the core voltage of a video card as easily as a CPU. but you are on the right track.
i would use ATItool and let it get a stable oc with its built in overclock finder.
__________________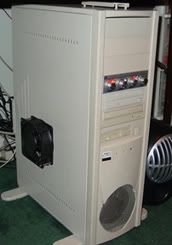 AMD Athlon 64 3200+ \"Venice\"
ASRock 939Dual-SATA2
2GB OCZ Platinum DDR400
eVGA 256mb 6800GT
ANTEC 430watt TruePower 2.0
WD 160GB 8MB cache HDD
NEC 16x Dual Layer DVD+/-RW