I have been playing around with overclocking my Athlon 3500+ Venice lately. I have a few concerns and problems:
1)I have to use a Ram divider to overclock as for some reason my Asus A8N-SLI Deluxe (or the RAM which is this stuff:
http://www.xtremesystems.org/forums/...ad.php?t=81868
) will not let me boot past the motherboard screen if I overclock it even 1mhz over its 200mhz stock rating. However in Clockgen, I can get reasonable overclocks on my RAM, (e.g 230mhz at stock timings). Is there an easy workaround or reason for this problem?
2)My system has this weird problem in which it can't fail a torture test or benchmark in any way. Instead it just freezes. If I'm running a Prime95 and upping my FSB 1mhz every 30s Prime will never throw an error before everything freezes. Ditto with SuperPi and OCCT. Is this normal? (my PSU is an Antec Smartpower II 500W (its def. overkill, my GPU is a measly 6200TC and ive only got 1 hd and dvd-rw). I am slightly worried about my rails, which are all about .2v of, but that is with software, not with a multimeter. I might try and get a multimeter to do this with, but is it a likely cause of my freezing? ( I have put PCI + PCI-E locks on, my HTT freq. does not get above 1000 e.t.c.) Here is a screenshot (this was just about stable i think: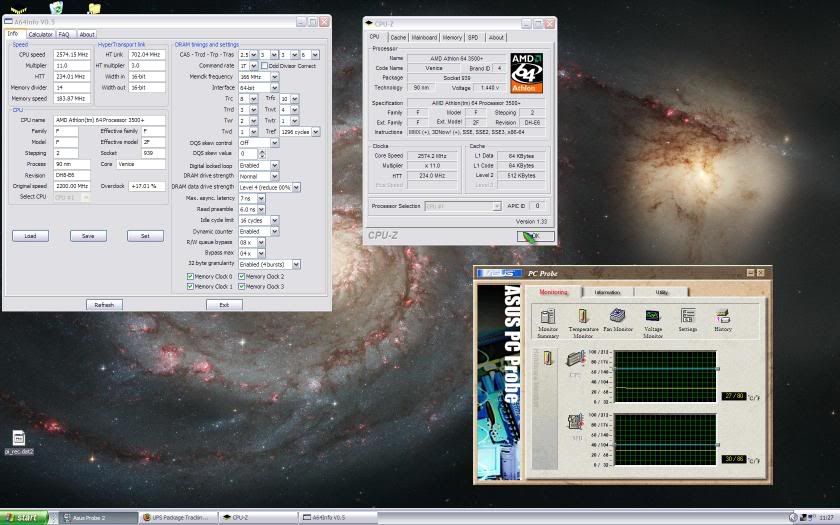 3)So far anything above 2.6ghz at 1.5v freezes my computer in benchmarks, so I was thinking of raising my vcore to 1.55v. At 1.5v my idle is 32C and my load is around 46C, this is quite high to move up more vcore isn't it? I am mainly asking this because in about 2-6 months I intend to upgrade my system to probably AM2 or Conroe. I would probably sell the parts on eBay but am worried about overclocking before selling. Will 1.55v mean I have to say the processer will have a much shorter life, can running 1.55v for 2-6 months run the small chance of frying my cpu? I am using a Cooler Master heatsink, that I imagine may be slightly better than stock but not by much. Has anyone sold many overclocked parts on eBay? How do they describe them? What voltage should I run?

Thanks for any advice with any of this.

__________________