My build (thanks to the forums) consists of:
Newegg.com - Western Digital Caviar Black WD7501AALS 750GB 7200 RPM 32MB Cache SATA 3.0Gb/s 3.5" Hard Drive -Bare Drive
Newegg.com - ASUS M4A87TD EVO AM3 AMD 870 SATA 6Gb/s USB 3.0 ATX AMD Motherboard
Newegg.com - XIGMATEK HDT-S963 92mm Rifle CPU Cooler I5 775 AMD compatible
Newegg.com - G.SKILL Ripjaws Series 4GB (2 x 2GB) 240-Pin DDR3 SDRAM DDR3 1600 (PC3 12800) Desktop Memory Model F3-12800CL9D-4GBRL
Newegg.com - AMD Phenom II X4 955 Black Edition Deneb 3.2GHz 4 x 512KB L2 Cache 6MB L3 Cache Socket AM3 125W Quad-Core Processor HDZ955FBGMBOX
Newegg.com - CORSAIR HX Series CMPSU-750HX 750W ATX12V 2.3 / EPS12V 2.91 SLI Ready CrossFire Ready 80 PLUS SILVER Certified Modular Active PFC Power Supply
Newegg.com - XFX HD-585X-ZAFC Radeon HD 5850 1GB 256-bit GDDR5 PCI Express 2.1 x16 HDCP Ready CrossFireX Support Video Card w/ Eyefinity
Newegg.com - COOLER MASTER Storm Scout SGC-2000-KKN1-GP Black Steel / Plastic ATX Mid Tower Computer Case
Here are some pics of different programs that I have that came with the Processor/Mobo: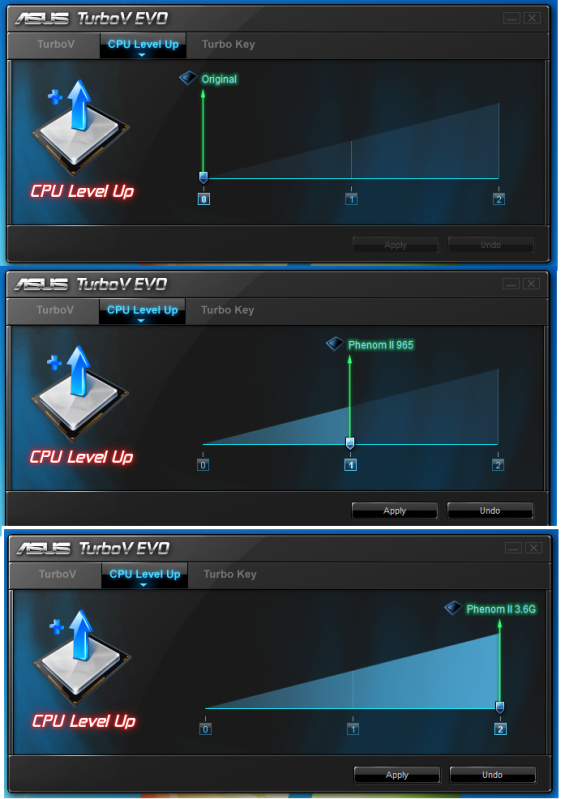 Looking through these programs it looks like I can OC it pretty easily but I dont want to just start clicking buttons and end up messing up the computer since it is only a few weeks old.
Thanks!
EDIT: When I have my game on, the internet going and a youtube video in the background my CPU temp goes from 34 to 42*.