Anyone running GIGABYTE GA-X38(T)-DQ6 with aftermarket cooler?
---
Hello again folks.... Wondering if anyone here is running either of the following motherboards with an aftermarket cooling solution...
Reason I ask is that in the pic below, you can see that there is a heatsink on the BACK of the motherboard. Anyone SUCCESSFULLY running their cooling solution WITHOUT removing that heatsink? That is just going to be a giant headache, and would
LOVE
to be able to avoid having to remove it.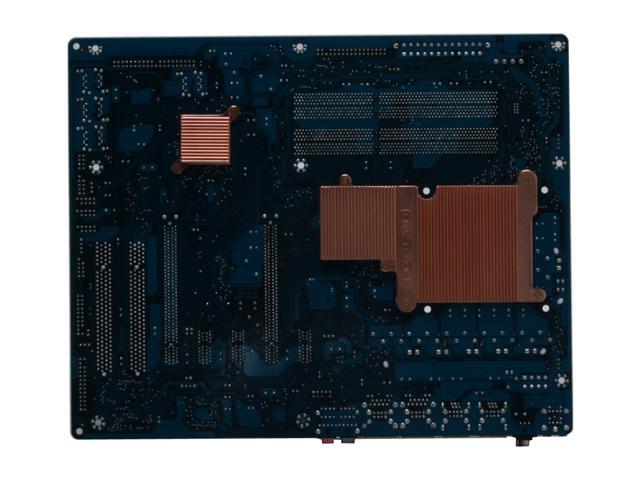 __________________



__________________

Gaming Laptop:

- ASUS K501LX-EB71 - Stock (Wife's) - Gateway P-6860FX - Stock (Mine)

General Laptop:

- Sony Vaio SVE141D1L - Stock (Mine)

Gaming Rig:

BACK ONLINE!! ASUS Z87-PRO (V EDITION), Intel Core i5-4590 Haswell (Stock Cooling), HyperX FURY 8GB DDR3 1866,

XFX Radeon HD 4870, SILVERSTONE DA700, Samsung 840 500Gig SSD MZ-7TD500BW, 3x WD20EARS 2 TB Green,

ASUS DRW-2014L1T (DVD), LG WH14NS40 (Blu Ray), Dell 2709W, Sony SDM-HS95P, Windows 10 Pro

The NAS Box:

OFFLINE D-Link DNS-323, 0.1RC3 Alt-F firmware, 2x 7200.14 ST3000DM001 3TB EXT4 - NO RAID - 6 TB

Home Server: BUILD LOG!!

- Supermicro SC826TQ-R800LPB chassis, X8DTN+, Dual Xeon E5620 (Stock),

4x Nanya NT4GC72B4NA1NL-CG (24GB Reg ECC DDR3), 12x MICRON MT36JSZF51272PZ-1G4G1FG (48GB Reg ECC DDR3), (72GB total memory)

2x OCZ Agility (60GB) (OS & Backup), 6x WD40EFRX (4TB) in RaidZ2 (14.3 TB usable), 2x Q Series HDTS225XZSTA (256GB) ZIL & L2ARC mirrored